From captivating storytelling to boundary-pushing creativity, these campaigns and rebrand pave the way for when it comes to making a statement this April.
We've rounded up some of our favourites across last month, including powerful video campaigns, bold rebrands, and even the use of animatronics. Take a look at some of the stand-out campaigns we've spotted…
IKEA's Show off your savvy campaign
IKEA has launched a new campaign that pays tribute to the company's humble beginnings by highlighting the ability of smart home solutions to make everyday life easier, more fun, and more inexpensive.
IKEA recognises a shift away from boasting about material prosperity and extravagant lives in this commercial. Instead, it emphasises the pleasures of taking pride in frugality and the thrill of saving money. The emphasis is on the art of working with limited resources and the satisfaction that comes from being resourceful.
The "Show Off Your Savvy" campaign will be fully integrated across several channels, including TV, online video, cinema, public relations, social media, in-store communications, and internal communications. The TV commercial shows an MTV cribs-style host showing viewers on a tour of his average home, where everyday items cleverly transform into multipurpose and practical pieces, displaying IKEA's collection of smart home furniture. It highlights that it is not about luxury sofas but about washable covers, that it is not about pricey champagne but about wonderful oven-ready leftovers, and that "where the magic happens" is a display of energy-saving lighting.
IKEA's "Show off Your Savvy" campaign encourages customers to find fulfilment in their resourcefulness, emphasising the company's commitment to offering affordable and sustainable home solutions for all.
Pets at Home rebrand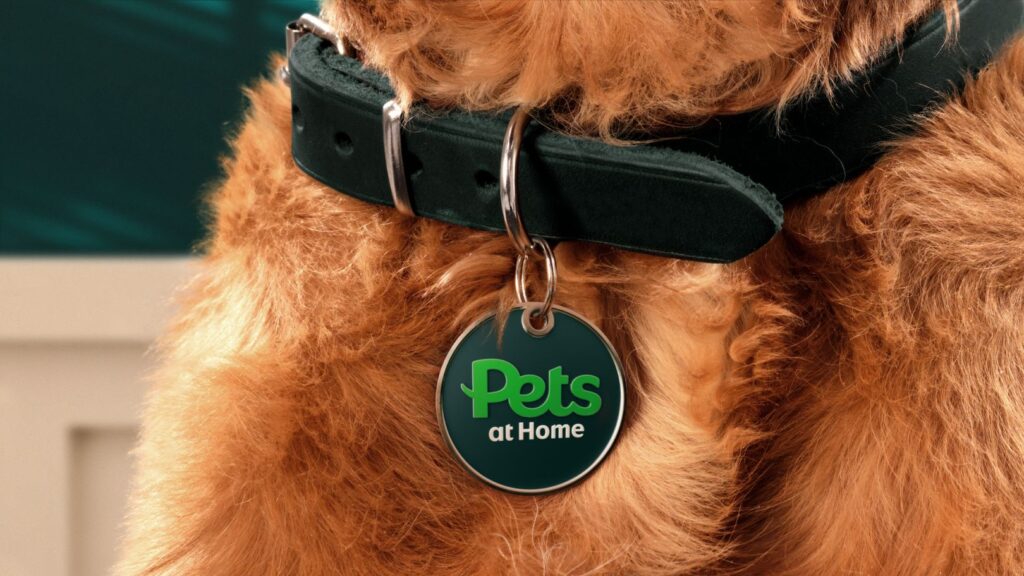 Pets at Home, the UK's leading pet care brand with over 450 stores, embarked on an evolutionary journey to streamline its identity. With an array of sub-brands spanning veterinary care, grooming, insurance, and more, the overall brand had become somewhat convoluted and lacked recognition.
The goal for the rebrand was to unite Pets at Home and its family of pet care brands under one visual identity. The focal point of this transformation was the word 'Pets,' a simple yet powerful brand name that embodies the organisation's commitment to always acting in the best interest of pets and pet owners.
The brand refresh introduced a bold and legible Pets logo, acting as an anchor for the sub-brands to create a sense of strength through unity. The brand system, inspired by the bond between people and their pets, incorporates paw and fingerprint shapes as framing devices, distinctive layouts, and bold textures.
While the brand's recognizable green colour was refreshed to exude a more modern feel, it still retained its heritage and iconic status. The rebrand emphasised Pets at Home's position as the nation's most trusted pet care business, leveraging its equity and enhancing the brand's visual impact. To inject unexpected humour into the customer journey, delightful illustrations were introduced to complement the overall brand experience and add an element of playfulness.
Pets at Home's brand transformation unifies its diverse offerings and provides an intuitive brand world for consumers to navigate. With its fresh visual identity, immersive experiences, and unwavering commitment to pet care, Pets at Home is poised to continue leading the way as the nation's most trusted destination for all things pet-related.
New branding for Dolmio
Dolmio, a household name known for its delicious Italian sauces, has unveiled a fresh and exciting brand identity to capture the hearts and palates of a wider audience. The supermarket staple embarked on a journey to revitalise its image, targeting younger millennial and Generation Z customers who may not have yet discovered the joy of their sauces.
The new visual identity encompasses captivating graphics, engaging messaging, vibrant photography, and an energetic voice, designed to resonate with the digitally savvy generation. Recognizing the evolving tastes of their customers, Dolmio's rebrand embraces the spirit of freedom and experimentation in cooking. It blends modernity with flashes of Italian heritage, channelling a sense of adventure and eclectic flavours.
A standout feature of the rebrand is Dolmio's exclamation mark word mark, symbolising the excitement and warmth associated with preparing a hearty Italian meal. The mark acts as a window into the world of Dolmio, inviting customers to join in the experience. The letter shapes themselves transform into speech bubbles, creating a direct and engaging conversation with the audience.
With its dynamic and enticing new identity, Dolmio is poised to captivate a broader audience, inviting them to embark on a culinary adventure filled with flavour, joy, and togetherness.
TSB get a new brand character
TSB has unveiled its latest brand campaign featuring Tiny The Elephant, a lovable character aimed at easing people's financial worries. The campaign recognises the challenges and uncertainties faced by individuals during difficult times and aims to demonstrate how open conversations with TSB's 'money confidence experts' can lead to greater financial confidence and an improved quality of life.
Tiny is an integral part of TSB's broader 'Life Made More' brand platform, positioning the bank as more approachable and human compared to fintech firms and larger financial institutions. The campaign responds to research revealing that a staggering 77% of Brits worry about the rising cost of living, with over half expressing daily concerns.
By opening up about money worries, however, the overwhelming elephant becomes less intimidating. Tiny acts as a friendly companion, inspiring confidence in the face of cost-of-living challenges and encouraging individuals to confront their fears, making them feel more manageable.
The campaign includes 30-second spots, complemented by light-hearted voice-overs and will extend across various channels, including audio-visual, digital platforms, and even TikTok. Notably, a partnership with Channel 4 will feature Tiny interacting with the iconic Channel 4 blocks during short 'blipverts' across popular peak-time shows.
TSB's introduction of Tiny The Elephant marks the beginning of an exciting journey, exemplifying the bank's determination to address the proverbial elephant in the room and provide much-needed financial support. With Tiny as their companion, customers can face their fears, manage their finances with confidence, and embrace a brighter future.
The New York Times' More of life, brought to life campaign
The New York Times has created a thought-provoking brand campaign that highlights the interconnectedness of the world around us. The campaign aims to inspire people to explore diverse topics and recognize the hidden complexities that exist within seemingly ordinary subjects.
Titled "more of life, brought to life," the campaign comprises three spots: Sneakers, Gravity, and Time. Each spot guides viewers along a surprising thread that connects various topics, unravelling their hidden intricacies. By showcasing these connections, the campaign celebrates the role of Times journalism in not only reporting on important issues but also shedding light on how they are interconnected, enabling a deeper understanding of our complex world.
In the Sneakers spot, the campaign begins with an article from the Style section on the history of Nike sneakers by Daisuke Wakabayashi. This article leads to an investigation from 2017 into the squeakiness of basketball courts, which, in turn, connects to a 2023 feature on the person who truly taught Kareem Abdul-Jabbar his famous hook shot. By weaving these individual stories together, a captivating tapestry of insightful journalism emerges.
The New York Times emphasises that each journey showcased in the campaign mirrors the personal experience readers have with their journalism and products. It demonstrates the expansive Times ecosystem, providing readers with a holistic understanding of the interconnected nature of the world.
While the first spot focuses on Sneakers, Gravity and Time are set to follow in the coming months. Audiences can expect to be taken on "journeys of revelations" that only Times Journalism can provide. From the interplay between gravity, ageing, sake, The Real Housewives, and conspiracy theories, the upcoming spots promise to uncover surprising connections that will captivate viewers.
What campaigns have caught your attention recently? If you want to find out how Rewind Creative can deliver bold campaigns that drive impact with your audiences, feel free to get in touch.