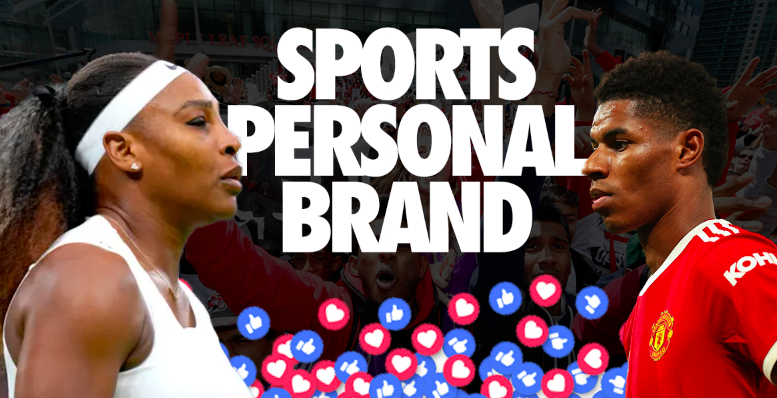 Sportspeople are quickly becoming stars on and off the pitch. With an increased use of social media and building their own brands, athletes have started to propel their images much further than the pitch – and some of them are doing a very good job at doing so. Here at Rewind Creative, we've taken a look at some of the biggest names in the sporting world who have accumulated strong online presences over the past couple of years.
Cristiano Ronaldo
It's not a surprise that one of the most influential sportsmen, who happens to play the world's biggest sport, holds incredible power online. His social media profiles have over 500 million followers combined – with the Manchester United star even being the most followed person on Instagram with a staggering 415.45 million followers!
In sports, he is often labelled as one of the greatest athletes to grace the footballing world, yet his success is evident whether he has a ball at his feet or not. Cristiano Ronaldo has built a brand, aptly named CR7, that has amassed over £500 million. However, building such a strong brand, and having a very visible social media presence, is not all about the money that it can bring in.
Sponsorships, brand deals, strengthened connections with fans and media coverage are all added bonuses for Ronaldo, all of which come from being consistent, passionate and present on his social media channels (which, by the way, gains over 5.6 million daily engagements on average).
Roger Federer
Tennis veteran Roger Federer has always had a nice-guy personal brand. Often seen as one of the kindest people in sport, his caring attitude translates to his online presence. With an impressive 9 million followers on average, Roger chooses to use his platform and brand to help spread awareness and offer support to those who are currently in the sports limelight – with his recent gratitude towards young tennis players Emma Raducanu and Naomi Osaka causing ripples across social media.
With his professional career coming to an end, Federer has built an online brand that can be carried on for as long as needed. The personal brand that he has built, along with the image he has created in the sports world, has landed him affiliations with some of the biggest brands in the world – Nike, Rolex and Mercedes-Benz to name a few.
Marcus Rashford
Speaking on political issues and starting conversations on important matters is something that some sports people tend to shy away from – one controversy could break an athlete's career. Marcus Rashford, England and Manchester United starlet, chooses to break these typical confinements and, instead, has built a personal brand and social media presence that is recognised all over the nation.
Rashford capitalises on his own determination, boldness and voice to speak out on the inequalities in football, as well as calling on social issues to be resolved instead of ignored. His influence on social media is evident: he uses his platforms, which have around 7 million followers respectively, to build a brand that is passionate and completely transparent.
It's through his online presence that his social media usage has even been added to England's teaching curriculum, with students now faced with the task of discussing how he uses his personal brand online to highlight issues of equality, diversity and inclusion.
Serena Williams
Hailed as one of the most recognisable sportspeople in the world, Serena Willaims has built a personal brand that is a grand slam on and off the tennis pitch. Her power within the sporting world has enabled her to leverage a personal brand that is built on the fundamentals of what she truly believes in – being inclusive, natural and being an advocate for not only others, but herself too. 
Collecting over 25 million followers across Twitter and Instagram, Serena often uses her platform to shine light on small businesses, highlight issues, and discuss certain stigmas that are often still associated with sports. Her brand is authentic – and it's proven to work. Her strong sentiments that make up the foundations of her personal brand have landed her endorsements with Intel, Pepsi and Delta Air; as well as being at the forefront of conversations surrounding mental health and sexism in sport.
Personal brands and strengthened social media presences are becoming more popular with sportspeople over time, with a lot of athletes opting to be more digitally present. Not only does it help build a brand that is recognisable after the final whistle, but they're being used to shed light on issues that are still, unfortunately, prevalent today.

The increase of searches made for these sports stars is evidence that their online strategies are working – as seen above in the chart that shows the trend of searches made for Cristiano Ronaldo over the past couple of years. Being visible online, and doing it well, opens the doors for opportunities that don't involve much sport playing at all.